Corregidor vs "Vanilla" Nomads [ESP/ENG]
Inclinarse por un sectorial en vez del "vanilla style" de una facción trae pros y contras; ciertamente se pierden opciones de tropa pero se ganan también habilidades y mayor disponibilidad de tropas del sectorial en cuestión, es una decisión que se tiene que bast… a la mierda, me encanta Corregidor empezaré con Corregidor!

Starting with a Sectorial instead of a vanilla style have it's issues; of course you lose options of troops but instead you obtain more availability from the sectorial troops, it's a very important decision but… who cares! I love Corregidor background and Miniatures, I'll be Corregidor!
From Data-sphere, Corregidor Starter.
Y así fue como empecé, mas o menos, en el mundo de Infinity. En un principio estaba tratando de decidirme ente Aleph y Nómadas pero tras leer el trasfondo de los nómadas, específicamente el de Corregidor, me decidí por completo. Y es que aunque no quiera, la inmensa mayoría de las miniaturas de la gama de Infinity me hacen ojitos.
And that was the way I started on Infinity. I was unable to choose between Aleph and Nomads but after reading the background I decided to choose Corregidor. Even if you don't play it, all the miniatures are amazing so it's very hard to choose only one faction, hahaha.
Pero bueno para fines prácticos he decidido poner, en mi opinión, lo que se gana y lo que se pierde al decidirse dentro de la facción Nómada por el sectorial de Corregidor.
So here it comes, my opinion for what you win and what you lose if you choose Corregidor.
¿Qué se pierde? / What do we lose?
Seamos sinceros, lo primero que perdemos son piernas… las de las reverendas claro. Y es que su DDO es algo que no tenemos en Corregidor, mucha tecnología para nosotros. La posibilidad de tener un "doctor" en un Equipo Enlazable también es algo que nos pega puesto que solo tenemos Paramédicos como opción dentro de un Equipo Enlazable (y solo para Alguaciles para ser más exactos y en el caso de compararnos con Bakunin).
De igual manera el Come-Pecados es una opción interesante que no está a nuestro alcance.
Grenzers y Spektrs también quedan fuera, perdiendo al TO.
Interventores de Tunguska, lo mejor de lo mejor en Hackeo está fuera de nuestro alcance.
El shock inmunity con el que cuentan muchas tropas de Bakunin que están disponibles en la parte "Vanilla".
Y pues obviamente los TAGS de Bakunin y Tunguska.
The first thing we lose are those beautiful legs… Moiras legs of course. And the DDO because at Corregidor we don't have it, too much technology for us. And with this we lose also the posibility for having a "doctor" on a Fireteam -the reverend healer- (point for Bakunin).
Sin-eater is also an interesting option that is not in our scope.
Grenzers and Spekters are out too. No TO for us, too much technology… again.
Tunguska Interventors out. Do I need to say the joke again?
Shock Inmunity. A common characteristic for Bakunin troops.
And obviously Bakunin and Tunguska TAGs.
Habrá mas opiniones al respecto pero en lo personal y por ahora en mi escasa -aunque no nula- esto es lo que considero, si creen que hay más cosas en contra no duden en comentar abajo.
Of course there are more opinions but in my "short" experience these are the disadvantages that I consider the most important ones, if you think about more points, feel free to comment!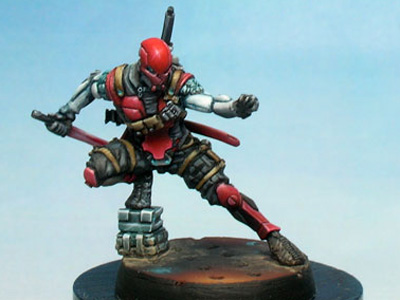 Ahora bien, ¿Qué se obtiene? / What do we get?
El beneficio principal de un sectorial sobre uno de facción sería la posibilidad de un Equipo Enlazable. Sin duda esto viene antes que cualquier cosa y de esto ya hablamos un poco anteriormente,
The main advantage of a sectorial is the possibility of a Fireteam.
De primera entrada conseguimos a "El Señor Massacre", al buen "McMurrough" y a Valerya Gromoz, a quienes no he tenido el placer de usar pero que considero conseguir en un futuro próximo. Aunado a esto tenemos incrementos en todas las unidades con las excepciones de el "clockmaster", "Daktaris", además de los remotos y los TAGs que trataremos en otras entradas; por ahora concentremonos en las unidades.
We get "Señor Massacre", the nice guy "McMurrough" and Valerya Gromoz, guys that I have not yet the pleasure of using this distinguished mercenary people but I hope I'll use them on a near future.
We have and increased availability for almost all Corregidor units, only one Daktaris and one Clockmaster. For TAG's and remotes we'll talk on other posts, for now let's only talk about units:
Tomcats
La unidad de rescate a la que todo niño de Corregidor desea ingresar. La disponibilidad aumenta en 2 dándonos una disponibilidad máxima de 4 unidades, lo que representaría la posibilidad de ingresar, dos doctores, dos ingenieros, uno y uno, otro D.E.P., un repetidor extra, etc. Al final todo depende de la estrategia pero al ser una unidad tan versátil este beneficio podría explotarse bastante bien.
The "I wanna be a Tomcat when I get elder" unit; kids at Corregidor don't want to become a fireman, they want to be a Tomcat! In sectorial, we have AVA 4, which represents more doctors, engineers, reapeters or D.E.P, basically, more versatility.
Ahora bien, para probar que tener la posibilidad de 4 es una ventaja explotable, estoy tratando de hacer una lista total de DA, la cual espero mostrarles en un futuro no muy lejano.
Well, I'm working on a list for testing that this AVA 4 is really an advantage, so wait for it at a near future!
From Data-Sphere, Hellcat, Wildcat (HRL) and Wildcat (Spitfire)
Wildcats
De disponibilidad 3 a 5, básicamente para poder hacer un Equipo Enlazado.
From AVA 3 to 5, basically for a complete Fireteam.
Uno más de disponibilidad así que no es la gran cosa pero en una lista total de DA quizás ese "adicional" ayude un poco.
One more Hellcat that maybe doesn't impact too much but on a DA specific list maybe this could have a better impact.
From Data-Sphere, Intruder (Sniper Rifle)
De disponibilidad 2 a 5. Aunque tener 5 Intruders reduciría las opciones a complementar con Alguaciles y alguna otra tropa especialista, 3 todavía es un número manejable que puede aportar una Ametralladora , un Rifle de Francotirador y un Hacker o un Teniente o un ADHL, ya depende del estilo de juego.
From AVA 2 to 5. Having 5 Intruders on the list will reduce the options for other units, maybe you could only add Alguaciles and only one specialist; 3 is a better number that could mean a HMG, Sniper rifle and a Hacker or Leutenient or an ADHL, depending on the game-style or type of match.
Mobile Brigada
De disponibilidad 2 a 6. Si señor, esto es para poder hacer un Equipo Enlazado o simplemente para tener más HI que ayude a eliminar amenazas pesadas aunque ciertamente, el coste de puntos es alto.
From AVA 2 to 6. Yes, sir! This is just for a full Fireteam or for getting more HI when you'll fight against something heavy but like with the Intruders, the cost is very high.
De disponibilidad 2 a 4. ¿4 Geckos? Bueno eso sería algo interesante de hacer pero ciertamente requiere de una inversión mayor (tanto en puntos como en dinero, jejeje). Si pudieran hacer un Equipo Enlazable sería lo máximo pero pues no pidamos milagros…
From AVA 2 to 4. 4 Geckos? Who will use 4 Geckos? Well, it could be an interesting strategy that'll requiere more points -and money- but could result in a surprise against certain kind of lists. If they could be also a Fireteam that would be nuts!
1 Bandido más pero que no le veo tanto uso debido a que es una tropa irregular…
1 more Bandit ehm, well… I don't know it mainly depends on the strategy because they're irregular…
De disponibilidad 4 a 5, completando la cantidad para hacer un enlace completo.
From AVA 4 to 5, for a complete FireTeam.
Tenemos más opciones que explorar y equipos enlazables fuertes aunque al final todo dependerá de la estrategia de cada uno. Las opciones están, ahora solo es cuestión nuestra ponernos a explorar.
We have more options for exploring and strong fireteams but at the end everything depends on our stratetgy. The options are there.
From Infinity-Forums.
En lo personal creo que los Intruders, los Tomcats y los Mobile Brigada son los puntos fuertes pero que hay que saber balancear para no terminar cayendo en un exceso mal encaminado. Quizás la opción de los Geckos también sería algo divertido, habrá que tener la oportunidad de probarlo alguna vez…
In my personal opinion Intruders, Tomcats and Mobile Brigada are the strong points but we need to learn how to balance them to avoid falling on a excess. Maybe the Geckos option could be something very funny so we only need to give a try on it!
¡Nos vemos en el espacio, cabezas de meteorito!
See you in the space, meteorheads!